This was the first ever episode of the international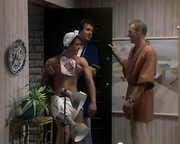 smash hit TV show Neighbours. This episode introduced us to 3 families The Ramsay family, ((see:
Ramsay Family Tree
), in which the iconic
Ramsay Street
is named and The Robinson family (see:
Robinson Family Tree
) as well as The Clarke family. The episode features Clarke family patriarch
Des Clarke
who is getting married the following morning and is holding a bucks party at his house at
No 28 Ramsay Street
The noise can be heard in the other houses.
Max Ramsay
of
No 24 Ramsay Street
is not happy. He phones his neighbours
Jim Robinson
asking if he could do anything about the noise. Max then decides to take his own course of action and runs round to Des's house and stops the party. He is not a happy man. 
Daphne Lawrence
is the stripper hired for the do.
Danny Ramsay
is still having bad dreams that brother
Shane Ramsay
is having a car accident. The following morning, Max, Danny and Shane go to the local swimming pool. Shane does a dive.
Main cast
Guest cast
Writer - Reg Watson
Series Producer - John Holmes
Director - Mark Joffe
Creator/ Exec producer - Reg Watson
Prev Ep NoneEdit
Ad blocker interference detected!
Wikia is a free-to-use site that makes money from advertising. We have a modified experience for viewers using ad blockers

Wikia is not accessible if you've made further modifications. Remove the custom ad blocker rule(s) and the page will load as expected.