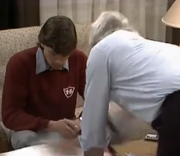 Douglas Blake
seems happy that he paid $50'000 for $100'000 of diamonds from
Madge Mitchell
. He walks off in glee but as he is doing so, he is stopped by
Helen Daniels
who says the diamonds are fake, they are 100% glass and totally worthless. Helen says it was all a trap so she could retrieve the $50'000 he conned off her. She says he broke hear heart emotionally as well as financially and all she does is pity him. She then walks off leaving Douglas alone.
Mike Young
is getting abuse from his father
David Young
after he says that he spoke to
Daphne Lawrence
about how he run away from home. David hits Mike then hits his mother
Barbara Young
.
Guest cast

Writer: Harold Lander
Producer: John Holmes
Director: Brendan Maher
Executive Producer: Reg Watson
Final appearance of Douglas Blake. Actor James Condon who played Douglas, and who was married to Anne Haddy who played Helen Daniels, would return in 1995 as Reuben White.
Ad blocker interference detected!
Wikia is a free-to-use site that makes money from advertising. We have a modified experience for viewers using ad blockers

Wikia is not accessible if you've made further modifications. Remove the custom ad blocker rule(s) and the page will load as expected.