Max Ramsay
refuses to do s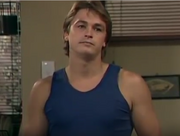 ome plumbing for
Daphne Lawrence
.
Shane Ramsay
does the job for him and wants to be friends with Daphne. She mistakes this for a relationship.
Anna Rossi
does not want to cause any more problems between
Jim Robinson
and
Julie Robinson
. It has been 9 years since
Anne Robinson
died.
Peter Kirk
finishes with Julie. Jim wines and dines Anna. But she says she is leaving and not coming back. She is not marrying Jim. She gets up and leaves.
Guest cast

Writer - Betty Luin
Series Producer - John Holmes
Director - Colin Budds
Executive Producer - Reg Watson
Ad blocker interference detected!
Wikia is a free-to-use site that makes money from advertising. We have a modified experience for viewers using ad blockers

Wikia is not accessible if you've made further modifications. Remove the custom ad blocker rule(s) and the page will load as expected.