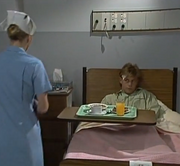 Scott Robinson
is in
Erinsborough Hospital
. He has been mugged. He wont give the nurse his real name but in the end does so. He plays poker with a girl called
Kelly
. Scott then phones his dad
Jim Robinson
to say he is alright. 
Shane Ramsay
and
Beth Travers
seem to be getting closer.
Madge Mitchell
wines and dines
Douglas Blake
in her ploy to help
Helen Daniels
get their revenge on him.
Guest cast

Writer: Ginny Lowndes
Series Producer: John Holmes
Director:  Andrew Friedman
Executive Producer: Reg Watson
First appearance of Scott Robinson since Episode 170 - 8 November 1985 and first appearance of Jason Donovan in the role. Jason took over from Darius Perkins.
Ad blocker interference detected!
Wikia is a free-to-use site that makes money from advertising. We have a modified experience for viewers using ad blockers

Wikia is not accessible if you've made further modifications. Remove the custom ad blocker rule(s) and the page will load as expected.