Jim Robinson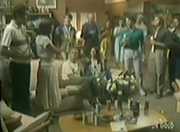 and
Anna Rossi
have their engagement party at the Ramsay's after he gives her an engagement ring. Everyone attends the party. Initially
Max Ramsay
is not happy and says his opinion doesnt count.
Julie Robinson
also disapproves of Jim and Anna.
Paul Robinson
defends his father. Paul does not want anyone to argue in front of
Lucy Robinson
.
Helen Daniels
gives Anna her mums brooch and Julie slaps Anna for taking everything away from her family. Jim says he is going to marry Anna. He says if Julie does not apologise he wants her to move out.
Main cast
Guest cast

Writer - Betty Luin
Series Producer - John Holmes
Director - Colin Budds
Exec Producer - Reg Watson
Ad blocker interference detected!
Wikia is a free-to-use site that makes money from advertising. We have a modified experience for viewers using ad blockers

Wikia is not accessible if you've made further modifications. Remove the custom ad blocker rule(s) and the page will load as expected.