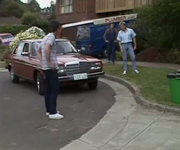 Paul Robinson
is read the riot act by
Jim Robinson
and
Helen Daniels
for bringing a girl home, one who walks around in just a towel. He is still having outbursts and even has a row with best friend
Shane Ramsay
in the street. Paul says Shane is a loser.
Max Ramsay
witnesses it. Paul then storms off but realises he is having outbursts and wonders what is happening to him. Later on he apologises to Shane and they shake hands.
Clive Gibbons
offers
Madge Mitchell
a job taking calls for his gorillagram service.
Guest cast

Writer: Jill James
Series Producer: John Holmes
Director: Vince Martin
Executive Producer: Reg Watson
Ad blocker interference detected!
Wikia is a free-to-use site that makes money from advertising. We have a modified experience for viewers using ad blockers

Wikia is not accessible if you've made further modifications. Remove the custom ad blocker rule(s) and the page will load as expected.