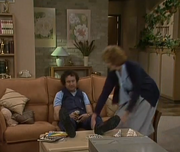 Max Ramsay
and new neighbour
Clive Gibbons
have a row over Clive and his gorillagram costume. Max confronts him but they then introduce each other. Clive has moved into
No 22 Ramsay Street
. 
Zoe Davis
is being a pest and irritating
Daphne Lawrence
. Zoe says she may stay in
Erinsborough
, she will get a job.
Madge Mitchell
and
Eileen Clarke
get chatting and Eileen thinks Daphne is right for Des. But she sees Daphne being comforted by
Paul Robinson
.
Guest cast

Writer - Reg Watson
Series Producer - John Holmes
Director - Brendan Maher
Executive Producer - Reg Watson
Ad blocker interference detected!
Wikia is a free-to-use site that makes money from advertising. We have a modified experience for viewers using ad blockers

Wikia is not accessible if you've made further modifications. Remove the custom ad blocker rule(s) and the page will load as expected.