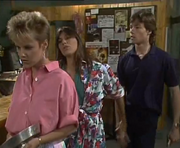 Zoe Davis
gives
Daphne Lawrence
the money that she owes her back. $150. Flighty Zoe then leaves but says she will call round to see her later. Daphne says to
Mike Young
that she is Zoe's best friend, but it seems Daphne does not feel the same way.
Max Ramsay
and
Danny Ramsay
spy on their new neighbours and see what they think is a gorilla. It is just new neighbour
Clive Gibbons
dressed in a gorilla suit. He is doing a photoshoot as he is a gorillagram. Danny jokes about Clive's surname being Gibbons and him in a gorilla costume.
Ad blocker interference detected!
Wikia is a free-to-use site that makes money from advertising. We have a modified experience for viewers using ad blockers

Wikia is not accessible if you've made further modifications. Remove the custom ad blocker rule(s) and the page will load as expected.