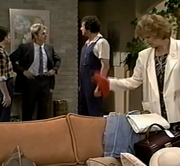 Several weeks have passed since
Danny Ramsay
found out the truth about his parentage.
Max Ramsay
is annoyed when his fiery younger sister
Madge Mitchell
arrived at
No 24 Ramsay Street
after
Shane Ramsay
picks her up from the airport. While Shane is waiting,
Zoe Davis
, an old friend nicks his wallet. Danny is still upset over the truth about his paternity but Max explains to him that he is still his son, not by blood, but by every other way, as much as Shane is his son.
Paul Robinson
discharges himself from the convalescent home and wants to forget
Terri Inglis
ever existed.
Daphne Lawrence
is miffed to see old friend Zoe when she turns up in the cafe. She asks
Mike Young
to call the police.
Main cast
Guest cast

Writer - Reg Watson
Series Producer - John Holmes
Director: Brendan Maher
Exec Producer - Reg Watson
This is the first episode of the show to be broadcast on Channel 10 after Channel 7 axed the show in 1985, which was then picked up by a rival channel.
2 and a half months seperated this episode and the previous episode broadcast on 8th November 1985.