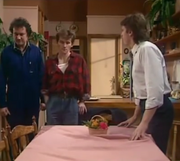 Danny Ramsay
comes back home to
No 24 Ramsay Street
and confronts
Shane Ramsay
, asking if he knew he was not
Max Ramsay
's son. The look on Shane's face indicates he knew. Danny asks if Max is not his dad then who is? Shane says he does not know. Shane says that Danny is not adopted though. Danny reckons that is why Max always yelled at him. Shane says that Max only found out a few months ago himself and was knocked for six. Danny then leaves and runs off into the night. The following morning, Max comes home to see Danny and Shane and he tells Danny that if he is going out all night he should have let him know. Danny says that Max never let him know he was not really his son. Max later explains that Danny is his son as much as Shane is and he loves him. They then hug. Shane looks on and smiles.
Des Clarke
and
Daphne Lawrence
arrange to get married.
Main cast
Guest cast

Writer - Reg Watson
Series Producer - John Holmes
Director: Max Varnel
Exec Producer - Reg Watson
Ad blocker interference detected!
Wikia is a free-to-use site that makes money from advertising. We have a modified experience for viewers using ad blockers

Wikia is not accessible if you've made further modifications. Remove the custom ad blocker rule(s) and the page will load as expected.