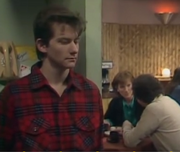 Paul Robinson
is in hospital with a chest wound after being shot. He vows that no one will ever walk over him again. 
Scott Robinson
has to fight off 2 yobs.
Max Ramsay
takes
Kate Drew
to the coffee shop.
Danny Ramsay
and
Scott Robinson
see them and Danny stands in a corner near to them to listen to their chat, as he thinks there may be a romance between them. Max talks about family secrets and that while it is hard to keep them, Danny does not know this secret. Max says that he is not really Danny's father.
Guest cast

Writer: Ginny Lowndes
Series Producer: John Holmes
Director: Max Varnel
Executive Producer: Reg Watson