Julie Robinson
wines and dines
Peter Kirk
.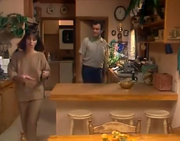 The following morning she snaps at
Daphne Lawrence
for saying that
Jim Robinson
should remarry.
Max Ramsay
says Daphne is a stripper and a disgrace to
Ramsay Street
. Jim is getting closer to
Anna Rossi
. He takes her for a coffee at a coffe bar. Anna says she has to return to Italy but Jim says he loves her and wants her to stay. She says she is in a relationship.
Main cast
Guest cast

Writer - Betty Luin
Series Producer - John Holmes
Director - Mandy Smith
Exec Producer - Reg Watson
Ad blocker interference detected!
Wikia is a free-to-use site that makes money from advertising. We have a modified experience for viewers using ad blockers

Wikia is not accessible if you've made further modifications. Remove the custom ad blocker rule(s) and the page will load as expected.