The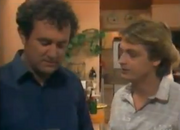 Ramsay's put on a dinner party,
Jim
and
Anna
get closer, and he takes her out shopping. The next day 
Shane
and
Danny
go on their camping trip. But not before he pretends to collapse on the sofa in pain.
Peter Kirk
is mistaken for a bank robber by undercover policemen as he has been hanging around lately but he proves to be innocent. He apologises to
Julie Robinson
for scaring her. They start bonding.
Guest Cast

Writer - Betty Luin
Series Producer - John Holmes
Director - Mandy Smith
Executive Producer - Reg Watson
Ad blocker interference detected!
Wikia is a free-to-use site that makes money from advertising. We have a modified experience for viewers using ad blockers

Wikia is not accessible if you've made further modifications. Remove the custom ad blocker rule(s) and the page will load as expected.