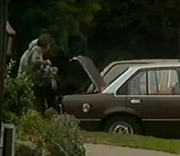 Maria Ramsay
decides to go travelling with Richard. She surveys
Ramsay Street
before getting into a taxi.
Max Ramsay
and
Danny Ramsay
watch as the taxi drives off. Max and Danny say they will cope without her.
Guest Stars

Writer: Lyn Ogilvy
Series Producer: John Holmes
Director: Mark Piper
Executive Producer: Reg Watson
Final appearance of Maria Ramsay and first appearance of Barbara Hill.