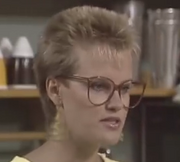 Elaine Smith
is a Scottish born Australian actress who played 
Daphne Clarke
in Neighbours from 1985 to 1988.
Pre Neighbours career
Edit
Elaine Smith was born in Ayrshire, Scotland on the 23rd April 1962. She emigrated to Australia.
Neighbours
Edit
Elaine Smith applied for a guest role in Neighbours in 1984. But her short spiky hair impressed bosses and she was cast in the regular role of Daphne Lawrence.
After Neighbours
Edit
The Actress Elaine Smith is now doing work in stage plays as other characters. She had roles in Home And Away.
Ad blocker interference detected!
Wikia is a free-to-use site that makes money from advertising. We have a modified experience for viewers using ad blockers

Wikia is not accessible if you've made further modifications. Remove the custom ad blocker rule(s) and the page will load as expected.