Edna Ramsay (nee Wilkins)
was a mi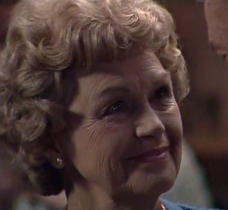 nor character in Neighbours in 1986, 1987 and 1988. She was the wife of
Dan Ramsay
and mother of
Max Ramsay
,
Tom Ramsay
and
Madge Bishop
. Edna was played by the late
Jessica Noad
.
Biography
Edit
Backstory
Edit
1986, 1987, 1988
Edit
Memorable info
Edit
Birthday: About 1916
Full Name: Edna Ramsay (Nee Wilkins)
Spouse Dan Ramsay (1936, 1986 official)
Children Max Ramsay (1940), Tom Ramsay (1941), Madge Ramsay (1942)
Grandchildren Shane Ramsay, Jill Ramsay, Gemma Ramsay, Moira Ramsay, Henry Mitchell, Charlene Robinson
Great Grandchildren - Daniel Robinson, Madison Robinson, Kate Ramsay, Harry Ramsay, Sophie Ramsay
Appearances
Edit
1986 
1987 
1988
Ad blocker interference detected!
Wikia is a free-to-use site that makes money from advertising. We have a modified experience for viewers using ad blockers

Wikia is not accessible if you've made further modifications. Remove the custom ad blocker rule(s) and the page will load as expected.