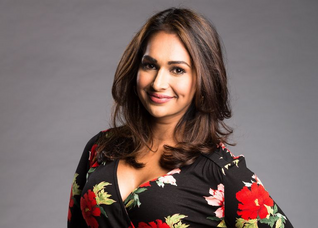 Dipi Rebecchi is a character in Neighbours who first appeared in April 2017. She is the wife of Shane Rebecchi. Dipi is played by Sharon Johal.
Biography
Edit
Backstory
Edit
Dipi Sharma was born in Australia in about 1980 of Asian heritage. She has a younger sister Mishti Sharma. Dipi met and married Shane Rebecchi. They had a daughter Yashvi Rebecchi in about 2000 then Kirsha Rebecchi some time afterwards.
Memorable info
Edit
Born: About 1980
Full Name: Dipi Rebecchi (Nee Sharma)
Dipi is supposedly a few years older than Sharon Johal who is 32 as of 2017. Dipi has 2 teenage daughters so she is at least 35/36 years old.
Father - Mr. Sharma 
Mother - Mrs. Sharma 
Siblings - Mishti Sharma
Spouse - Shane Rebecchi (???-present)
Children - Kirsha Rebecchi, Yashvi Rebecchi
Appearances
Edit
2017
See also
Edit
Ad blocker interference detected!
Wikia is a free-to-use site that makes money from advertising. We have a modified experience for viewers using ad blockers

Wikia is not accessible if you've made further modifications. Remove the custom ad blocker rule(s) and the page will load as expected.