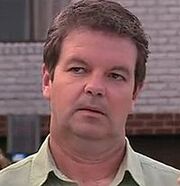 David Bishop
was a character in Neighbours who appeared in 1988 and then again as a regular from 2003 to 2005. He was the son of
Harold Bishop
. David was played by
Kevin Harrington
.  
Biography
Edit
Backstory
Edit
David is the eldest child of Harold and Mavis Bishop. David is every bit his father in terms of stature and principles. David attends his father Harold's Buck's Night Party, much to the amusement of Henry Ramsay, Scott and Paul Robinson, due to his resemblance to Harold and similar traits. David attends the wedding and acts as best man. He does not initially take to his father's fiancée Madge Ramsay, but welcomes her by calling her "mother" at the reception. David then makes a speech that bores the guests and is ultimately halted by Jim Robinson. The morning after the wedding, David puts Henry's nose out of joint when he wakes him at 7 am to clear up at Number 24.
2003-2005
Edit
15 years later, David phones Harold with the news that he and his family are moving to Erinsborough after he lands a job with an old school friend, The family initially stay with Harold until their new home is built but problems are visible as David and Harold's relationship has been strained over the years after Harold's disappearance and battle with amnesia, resulting in minimal contact between father and son besides the odd Christmas and birthday card. After Harold visits David at his workplace and is virtually ignored, Harold lets his feelings be known towards him, citing David as materialistic. Harold then complains about Liljana taking over his kitchen and Serena being spoilt. David hits back by telling Harold he has felt excluded from his life and points out that he only called him to tell him Madge had died, after her funeral two years prior. David, Liljana and Serena move into Lassiters' for several days. Liljana helps repair the rift between David and Harold and the family move back in.
Memorable info
Edit
Father Harold Bishop
Mother Mavis Bishop
Siblings Kerry Mangel
Grandfathers Frank Bishop
Grandmothers Mrs Bishop
Spouse Liljana Ristic (1986-2005)
Children Serena Bishop
Great, great uncles Alastair MacDoon
Second cousins once removed Roy MacDoon
Niece Sky Mangel
See also - David Bishop - List of appearances
Ad blocker interference detected!
Wikia is a free-to-use site that makes money from advertising. We have a modified experience for viewers using ad blockers

Wikia is not accessible if you've made further modifications. Remove the custom ad blocker rule(s) and the page will load as expected.