Daniel Arthur Ramsay
was a minor character in Neigh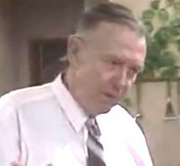 bours in 1986 and 1988. He was the father of the Ramsay siblings,
Max Ramsay
,
Madge Bishop
and
Tom Ramsay
. Dan was played by
Syd Conabere
.
Biography
Edit
Backstory
Edit
Daniel Arthur Ramsay was born in about 1916 to Jack Ramsay and his wife. In about 1935 he met Edna Wilkins and they seemingly married in 1936, unbeknown to them the minister was a con man. Dan and Edna went on to have 3 children, Max Ramsay in March 1940, Tom Ramsay in 1941 and Madge Ramsay in June 1942.
1986, 1988
Edit
In 1986, aged about 70, Dan Ramsay visited his daughter Madge at No 24 Ramsay Street. He wanted a divorce from Edna, his wife of 50 years. During this they found out that they never were officially married as in 1936 the minister was a con man. Dan and Edna finally legally married in September 1986.
Dan turned up again in Ramsay Street in July 1988. This was his last visit to Erinsborough.
As of 2017, it is likely he passed away years ago, though the date and year is unknown.
Memorable info
Edit
Birthday: Unknown
Full Name: Daniel Arthur Ramsay
Father Jack Ramsay
Mother Mrs Ramsay
Siblings Maud Ramsay
Spouse Edna Wilkins (1936, 1986 official)
Children Max Ramsay (1940), Tom Ramsay (1941), Madge Bishop (1942)
Grandchildren Shane Ramsay, Jill Ramsay, Gemma Ramsay, Moira Ramsay, Henry Mitchell, Charlene Robinson
Great grandchildren Holly Harrigan, Kate Ramsay, Harry Ramsay, Sophie Ramsay, Daniel Robinson, Madison Robinson
Other relatives Fred Ramsay
Appearances
Edit
1986
1987
1988
Ad blocker interference detected!
Wikia is a free-to-use site that makes money from advertising. We have a modified experience for viewers using ad blockers

Wikia is not accessible if you've made further modifications. Remove the custom ad blocker rule(s) and the page will load as expected.