William Rodger "Bill" Daniels
was an unseen c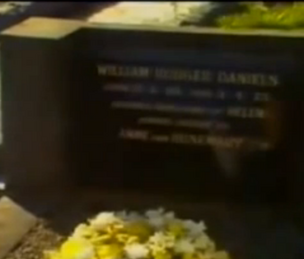 haracter in Neighbours. He was the husband of
Helen Daniels
. Bill died in 1969.
Biography
Edit
Backstory
Edit
William Rodger Daniels was born in March 1922 in Erinsborough. He was the first cousin of Michael Daniels. He met and married Helen Simpson in 1939 and they had their first and only biological child Anne Daniels in 1940. Helen's best friend Grace Barnett was very close to her and Bill.
Sometime in the 1960s, Helen was away visiting family one night, and Grace and Bill had a one night stand. Helen's sister Laura Dennison knew the truth and Grace decided to leave the area for good due to her jealousy over the fact her best friend was Bill's wife and not hers. Helen always wondered by Grace left the area without telling anyone.
Bill died in 1969, having been married to Helen for around 29/30 years. Helen then moved into her son in law Jim Robinson's house after Anne died in childbirth, giving birth to Helen's granddaughter Lucy Robinson. (appropriately named Lucy Anne in her memory)
Memorable info
Edit
Spouse Helen Daniels (1939-1969)
Children Anne Robinson (1940), Rosemary Daniels (adoptive)
Grandchildren Paul Robinson, Julie Martin, Jill Ramsay, Scott Robinson, Lucy Robinson, Jill Ramsay
Great Grandchildren - Amy Robinson, Robert Robinson, Elle Robinson, Cameron Robinson, Andrew Robinson, David Tanaka, Leo Tanaka, Hannah Martin, Daniel Robinson, Madison Robinson, Harry Ramsay, Kate Ramsay, Sophie Ramsay
Great Great Children -  Jimmy Williams
First cousins Michael Daniels
Ad blocker interference detected!
Wikia is a free-to-use site that makes money from advertising. We have a modified experience for viewers using ad blockers

Wikia is not accessible if you've made further modifications. Remove the custom ad blocker rule(s) and the page will load as expected.