Anne Haddy
was an Austra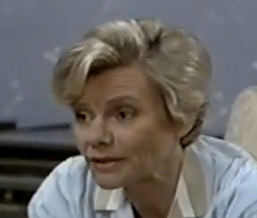 lian actress who played
Helen Daniels
from 1985 to 1997. Anne was one of the original cast members.
Pre Neighbours career
Edit
Born on the 5th October 1930 in Quorn, South Australia. Before Neighbours, she appeared in soaps like Prisoner and Sons and Daughters for three years, she had even been on of the early presenter's on childrens show Play School in 1966
Neighbours
Edit
Anne Haddy landed the role of the matriarch Helen Daniels in late 1984 and filming began in early 1985. Anne played Helen for the next 12 years. Ill health forced her to leave the show and her character was killed off in October 1997.
Anne Haddy also presented the Neighbours 10th Anniversary video in 1995.
After Neighbours
Edit
Anne had no more acting roles after leaving Neighbours and retired completely. She died on the 6th June 1999 at her home in Melbourne aged 68. The UK episode of Neighbours broadcast that day was dedicated to her memory.
When Anne Haddy presented the Neighbours - 10th Anniversary VHS Special in 1995, at the end of the 1 hour long special, Anne said that a lot has happened in the 10 years of the show. And she added that she hopes the show can carry on for another 10 years. She was not alive to see the 20th anniversary in 2005. In 1995, she said she hoped Neighbours would go on for another 10 years, which is what happened, and it went on for another 10 years after that, and Neighbours reached its 30th anniversary in 2015. And the show is now in its 4th decade as of 2017, and shows no sign of stopping.