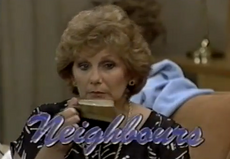 Anne Charleston
is an Australian actress who played
Madge Bishop
in Neighbours from 1986 to 1992 and again from 1996 to 2001 and as a ghost in 2015.
Pre Neighbours career
Edit
Anne Charleston was born on the 30th December 1942 in Melbourne, Australia. She is of Irish heritage. Her grandparents were Irish immigrants. Her first known TV role was in 1961 as Louise in Night Of The Ding Dong. Anne had TV roles in Prisoner: Cell Block H and Number 96 then Possession in 1985.
Neighbours
Edit
In late 1985, Anne was cast as Madge Mitchell in Neighbours Her first scenes aired in January 1986, Episode 171 - 20 January 1986. Anne played a major role in the show as Madge Mitchell, later Bishop, wife of dozy Harold Bishop. In 1992, Anne quit Neighbours and her final scenes aired in November that year.
Anne had no known TV roles during her 4 year break from Neighbours 1992-1996. She emigrated to Galway, Ireland, where her ancestors came from.
In 1996, Anne agreed to return to Neighbours after it was revealed that Harold had not died in 1991 when washed out to sea, he had been picked up by a trawler and had amnesia. Anne remained in Neighbours for another 5 years. She quit in 2000, saying Madge had lost all her boldness and was a passive character. Madge was killed off and died of cancer in April 2001.
After Neighbours
Edit
Anne retreated to her cottage in Ireland after leaving Neighbours in 2001. She relaunched her career in the UK by doing pantomine. In 2006 she joined the cast of Emmerdale [1] as Lily Butterfield [2], sister of Edna Birch.
https://en.wikipedia.org/wiki/Anne_Charleston