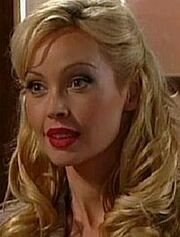 Annalise Hartman
[1]
was a character in Neighbours from 1993 to 1996 followed by a short return in 2005. She first appeared in
Episode 1830 - 15 January 1993
. She was a very manipulative girl in her original time in the show. She was played by
Kimberley Davies
.
Biography
Edit
Backstory
Edit
Annalise Hartman was born on the 13th March 1975. She was born to Tony Hartman, nicknamed Tarquin and his wife Fiona Hartman. Tony and Fiona split up and her fathered another child with another woman called Joanne Hartman.
1993-1996
Edit
Annalise arrives in Erinsborough when her friend Beth Brennan introduces her to her lanlord Lou Carpenter Lou is instantly taken with Annalise and invites her to move in with him, Beth and Cameron Hudson. Lou and Annalise begin dating, Annalise is interested in his money, while Lou is into her looks. Annalise's mother Fiona Hartman arrives, she informs Lou that her daughter is only 17 years old. Lou and Annalise break up after Annalise is seen kissing another man. Fiona then encourages Annalise to return to High School and finish Year 12. Annalise tries to seduce her teacher Wayne Duncan but he rejects her. Scorned, Annalise invents a lie that Wayne had sexually harassed her. She only admits the truth when it looks like Wayne will be fired and apologises to him.
Memorable info
Edit
Birthday: 13th March 1975
Full Name: Annalise Hartman
Father - Tony Hartman
Mother Fiona Hartman
Siblings Joanna Hartman (half, same father)
Spouse Sam Kratz (2000-)
Ad blocker interference detected!
Wikia is a free-to-use site that makes money from advertising. We have a modified experience for viewers using ad blockers

Wikia is not accessible if you've made further modifications. Remove the custom ad blocker rule(s) and the page will load as expected.