Andrew Benito Robinson was a charact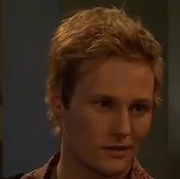 er in Neighbours. He was the son of
Paul Robinson
and
Christina Alessi
. He was born in
Episode 1563 - 13 November 1991
.
Biography
Edit
Andrew Robinson was born in November 1991 to Paul Robinson and Christina Robinson Nee Alessi.
2010-2013
Edit
Memorable info
Edit
Birthday: 20 August 1993, originally 13 November 1991
Full Name: Andrew Benito Robinson
Father Paul Robinson
Mother Christina Alessi
Siblings Amy Robinson, Elle Robinson, Robert Robinson, Cameron Robinson (half, same father) Leo Tanaka (half, same father) David Tanaka, (half, same father)
Grandfathers Jim Robinson, Frank Alessi
Grandmothers Anne Robinson, Margaret Alessi
Great grandfathers James Robinson, Bill Daniels, Benito Alessi Snr
Great grandmothers Bess Robinson, Helen Daniels
Great great grandfathers Sam Robinson
Great Uncles Benito Alessi
Aunts - Julie Martin, Lucy Robinson, Caroline Alessi
Uncles - Scott Robinson, Glen Donnelly
Cousins - Daniel Robinson, Madison Robinson, Hannah Martin
Second Cousins - Marco Alessi, Rick Alessi, Lindsay Steiner
Appearances 
Edit
1991 
1992 
2009
2010
2011
2012
2013
Ad blocker interference detected!
Wikia is a free-to-use site that makes money from advertising. We have a modified experience for viewers using ad blockers

Wikia is not accessible if you've made further modifications. Remove the custom ad blocker rule(s) and the page will load as expected.