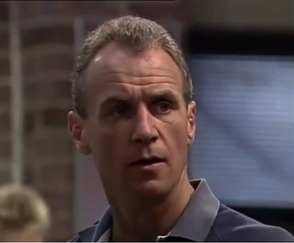 Alan Dale
is a New Zealand born Australian actor, now based in the US who played
Jim Robinson
in Neighbours from 1985 to 1993.
Pre Neighbours career
Edit
Born Alan Hugh Dale on the 6th May 1947 in Dunedin, Otago, New Zealand. Alan trained as an actor and moved to Australia. He played Dr. John Forrest, a major role in The Young Doctors from 1979 to 1982.
Neighbours
Edit
Alan Dale joined the cast of Neighbours in late 1984 and filming begun in January 1985. Alan was a major actor in the show as he played a major role as the sometimes fiery patrairch Jim Robinson. Jim was once compared in the stalwart case to Den Watts from British TV show EastEnders. Although Jim was not villainous like Den. Alan played Jim for 8 years. In a row over pay in around late 1992, Alan decided to leave the show. He filmed his final scenes in early 1993 in which Jim suffered a heart attack and died. After leaving the show, Alan Dale slammed the Neighbours makers, saying they saw the cast as just numbers and easily replaceable.
After Neighbours
Edit
Alan Dale struggled to find work after Neighbours due to being typecast. He had some roles as voiceovers for TV commercials. He had a role in Blue Heelers in 1997. In 1999, Alan moved to America and the rest is history, his career skyrocketed again, and he was more rich and famous than he ever was during his time in Neighbours. He starred in hit American shows such as NCIS, Lost, Ugly Betty and 24.
https://en.wikipedia.org/wiki/Alan_Dale